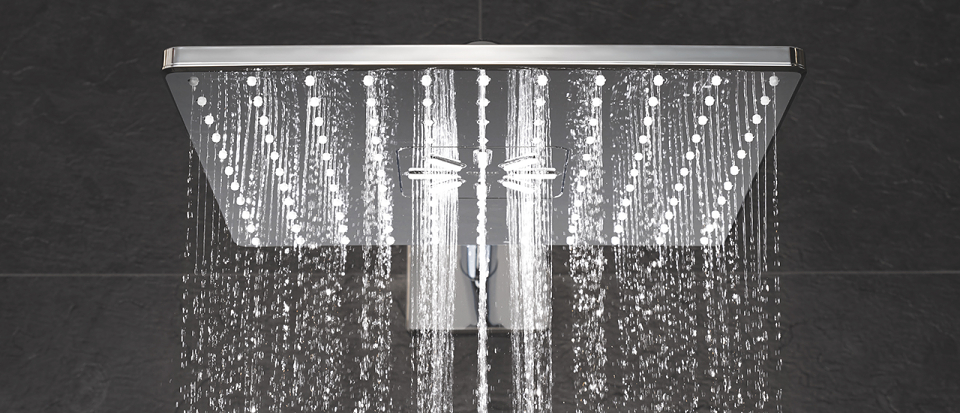 PRODUCTS FOR TAILOR-MADE SHOWERS
Create your own personal tailor-made spa experience with GROHE F-digital Deluxe and AquaSymphony. This cosmopolitan, multi-sensory shower will stimulate all your senses and transform your bathroom into an indulgent space for physical, emotional and spiritual well-being.
PRODUCTS FOR CONCEALED SHOWERS
When you have the luxury of planning your shower from scratch, Grohtherm Concealed thermostats in combination with the GROHE head showers offer wonderful options.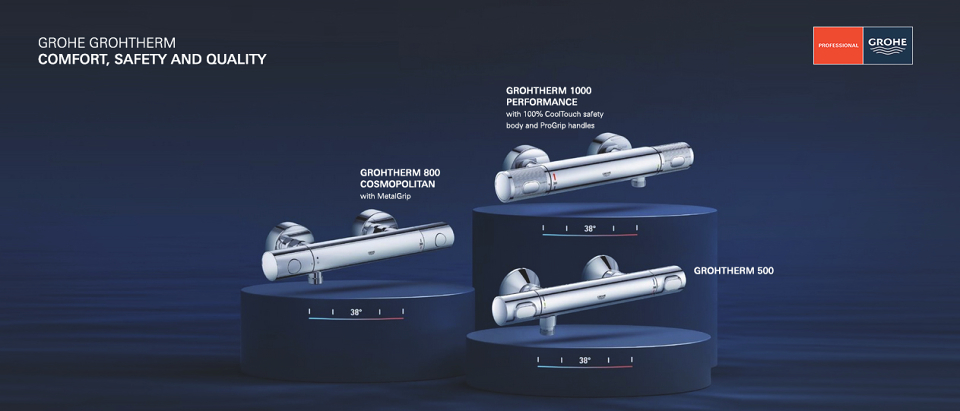 New Joiners to the Thermostat Family
PRODUCTS FOR EXPOSED SHOWERS
Exposed showers from GROHE let you turn your plans into reality. From planning a shower upgrade to enjoying a new shower made simple.
HAND SHOWERS & SHOWER SETS
Our collection of hand showers combines award-winning design with the latest technology and first-class materials. GROHE EcoJoy showers illustrate our commitment to the environment and encourage daily water saving.
Calculate your savings now!
Save water and energy with GROHE thermostats
Our water and energy calculator helps you to see immediately how much you can save with a GROHE thermostat equipped with GROHE EcoButton and GROHE Turbostat. After a few clicks you will be able see the annual cost and energy savings.
Start Water & Energy savings calculation
GROHE SHOWERS, THE SPRAYS
ENJOY VARIETY –<br>REJUVENATION OR RELAXATION?
Our unique design distributes the same amount of water to each and every nozzle, resulting in an even spray. So whatever pattern suits your mood – Normal, Champagne spray, Pure, Jet, Rain or Massage – you're guaranteed that it will be an all-over exhilarating experience. The new sprays, GROHE PureRain spray, GROHE Bokoma spray and ActiveRain spray, are just the latest examples of GROHE DreamSpray technological innovation.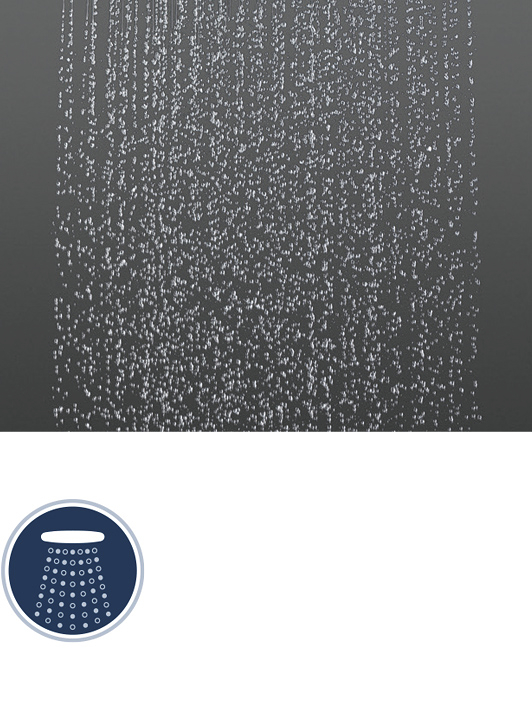 RAIN SPRAY
Wide and luxurious – a soft, delicate pattern to soothe the skin. Mimicking warm summer rain, the spray provides a full and even coverage.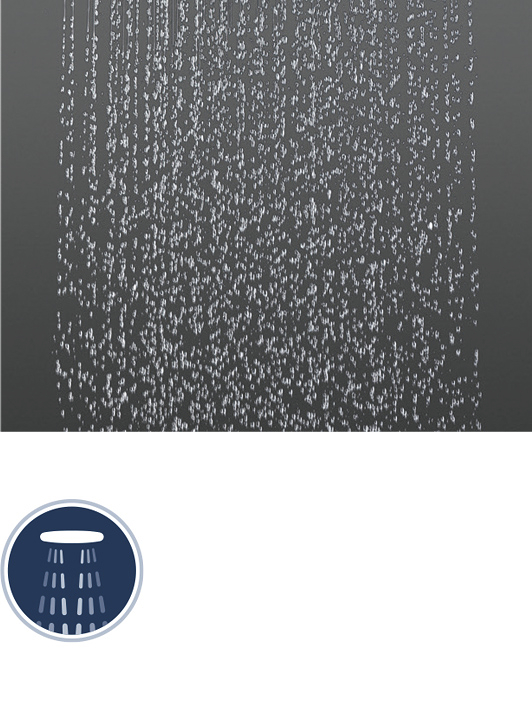 PURERAIN SPRAY
The new and improved Rain spray with larger and softer droplets for a more luxurious showering experience.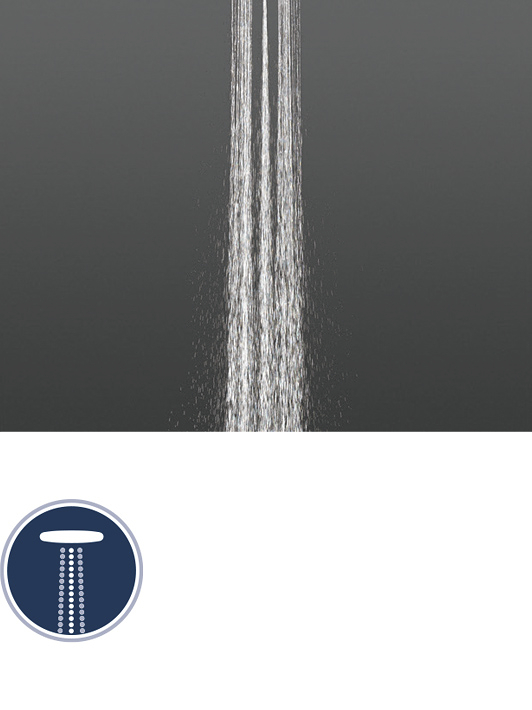 ACTIVERAIN SPRAY
Innovative spray to loosen up tense muscles or rinse shampoo out of your hair.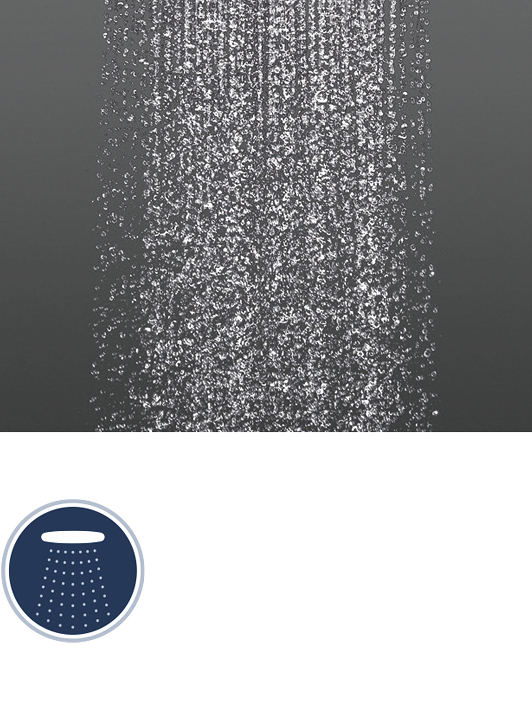 SMARTRAIN SPRAY
All the features and benefits of our authentic Rain spray but with a reduced flow. A smart pattern that uses less water to deliver full showering enjoyment.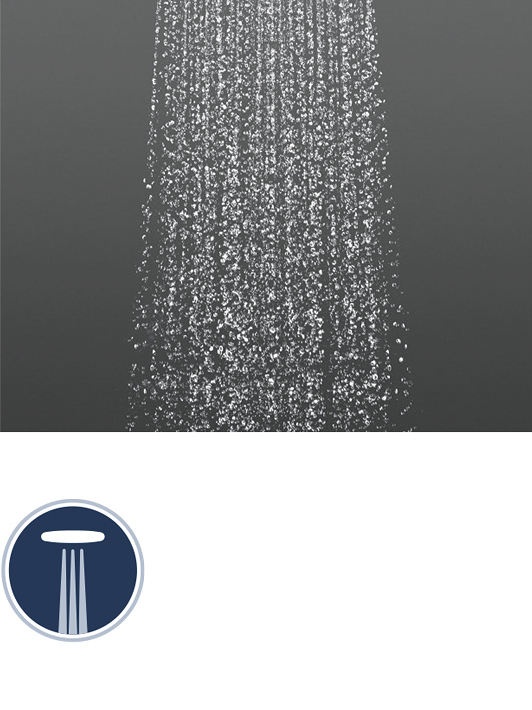 JET SPRAY
A focussed circular spray, which delivers a refreshing burst of water. Ideal for stimulating the skin or simply cleaning the bathtub or shower.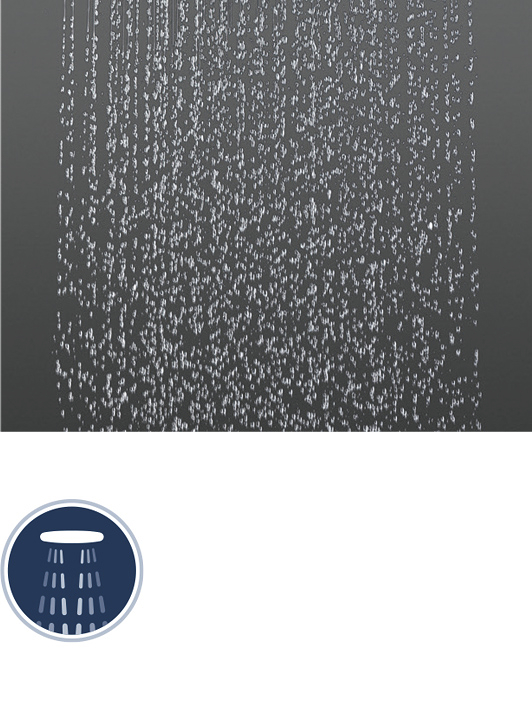 PURE SPRAY
The name says it all. A soft stream of pure water delivered from the centre of the shower head – reminiscent of a fresh, mountain spring.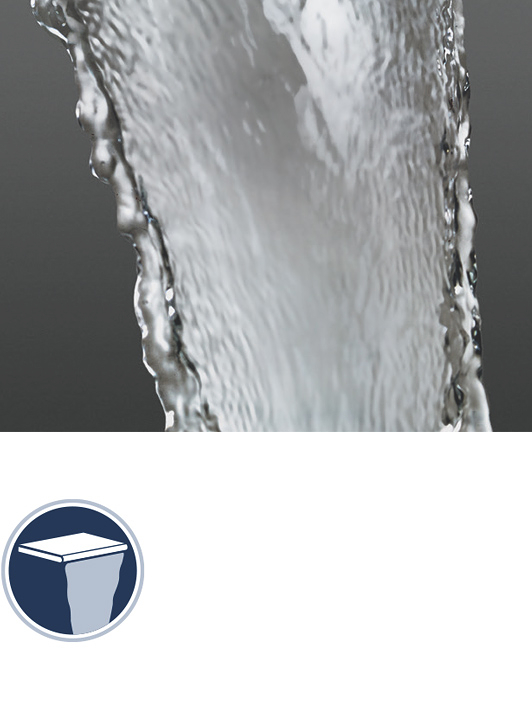 WATERFALL SPRAY
An extra wide spout creates the sensual pleasure of a waterfall in your own bathroom.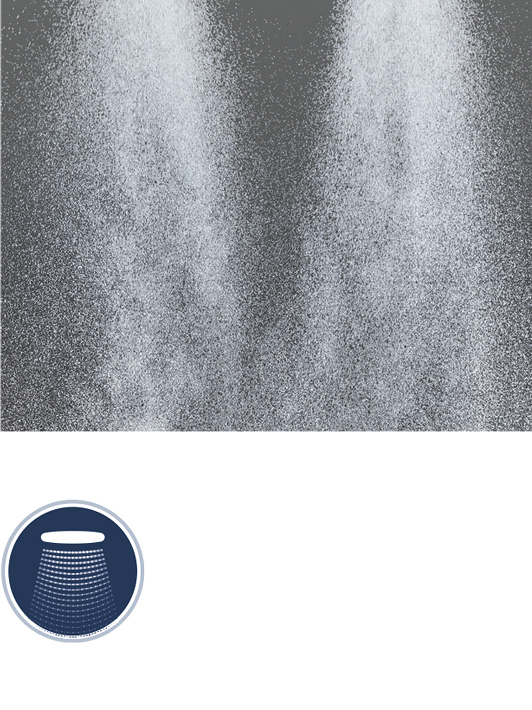 DRIZZLE SPRAY
Revitalizing cool water mist acts like a fresh sea breeze.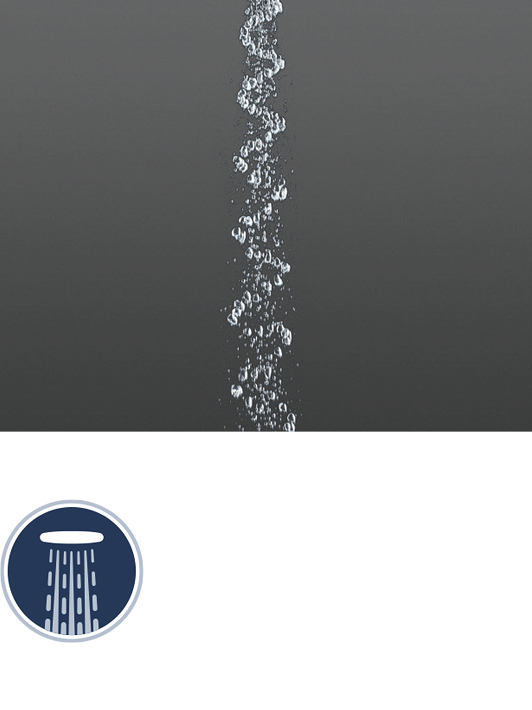 MASSAGE SPRAY
A pulsating spray pattern for a stimulating massage. Gives a unique and invigorating all-over massage.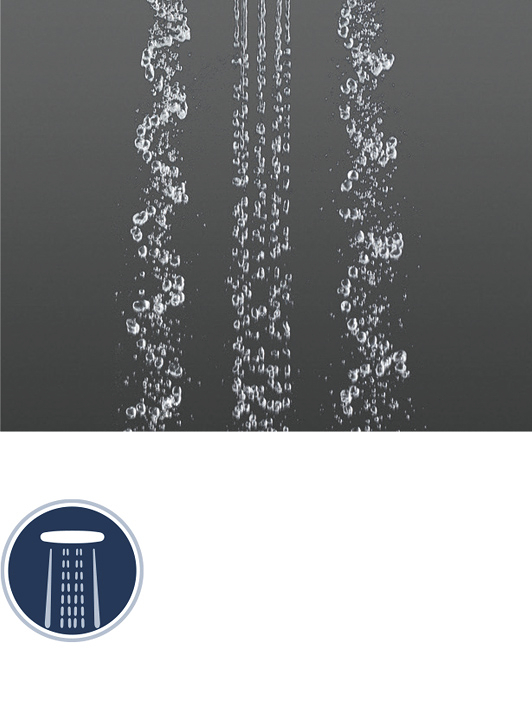 TRIOMASSAGE SPRAY
The combination of the renowned Bokoma spray and two massage sprays gives you a head and shoulder massage in one combined spray.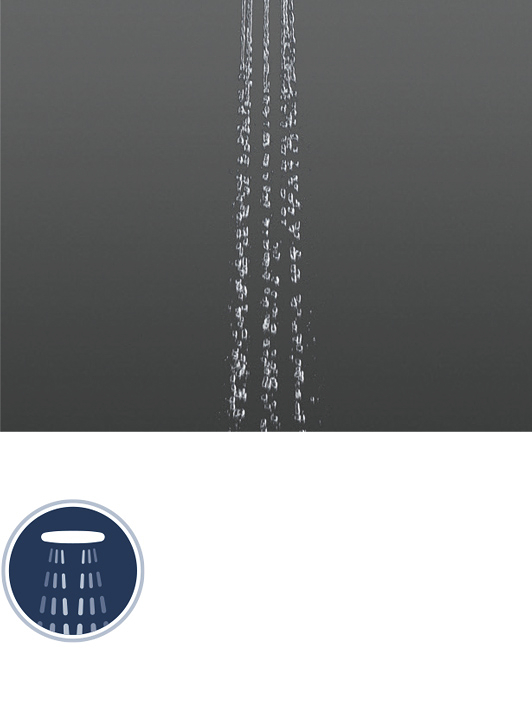 BOKOMA SPRAY
Eight dynamic spray nozzles create a 'breathing' effect, recreating the tension-relieving sensation of a fingertip massage.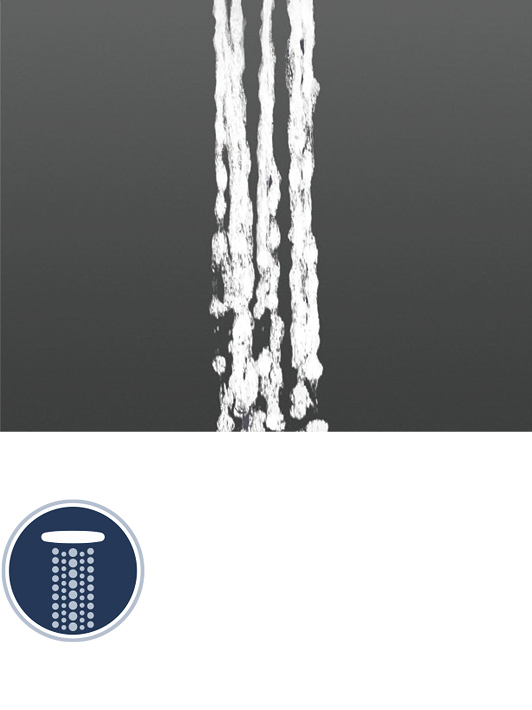 CHAMPAGNE SPRAY
Enriched with air for bigger and softer water droplets. More air means that less water is required when using this fulfilling and gentle spray pattern.